Civis Analytics was created during the re-election campaign for President Obama. The campaign needs a tool to help understand their voters' demographics and the issues they are facing. Fast forward to the present, and Civis Analytics has applied that same methodology and technology to organizations across industries that focus on engagement, customer loyalty, and acquisition. Civis Analytics launched a new tool called Civis Media Optimizer, an easy-to-use, cloud-based service that lets media planning and buying teams build highly efficient, accountable TV media plans. 
Civis Analytics approached Kitterman with the need to create a lead generation campaign for this new product. Our objective was to create a campaign that would target media buyers and planners at U.S.-based advertising agencies and B2C companies with revenues of at least $250 million, and a large TV ad spend. Their goal was to bring in new leads that would result in one to three new customers. Considering the product is $200k, an average sale cycle is six months, and there is very little brand awareness; this would be a challenging task. 
Kitterman worked with Civis Analytics to identify a strategy that included a media plan for directing leads through their new website and a process to nurture new leads. Under my team leadership, we created a body of lead generation and sales enablement materials to complement Civis Analytic's existing materials.
The campaign was in the market for a little over six weeks and finished up in March 2017. Kitterman has delivered 269 leads. To-date, Civis Analytics has categorized 60 leads as MQLs, 42 SQLs, and one is close to closing.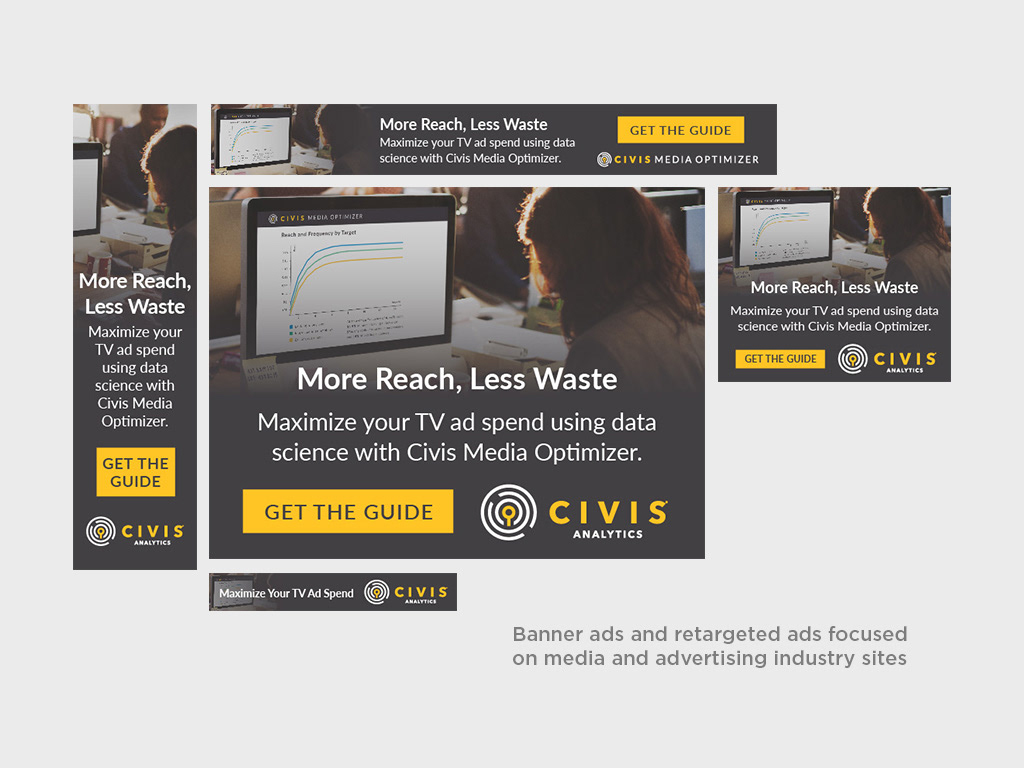 Creative direction, lead gen strategy, and visual design
Creative Elements:
20-page eGuide
Paid social posts
Online display ads
Retargeted display ads
Case study
Marketo eGuide landing and confirmation pages
Marketo nurture emails
3rd party emails with eGuide offer
Creative Direction - Bobby Arispe
Visual Design - Zoe Vartanian
Copy & Research - Serah Deliani
Media - Dawn Lehew
Account Direction & PM - Karen Mahardy