Kaiser Permanente has long been a sponsor of the Special Olympics. In 2018 the Special Olympics USA Games was coming to Seattle, Washington. The event would bring in over 4,000 Special Olympics athletes from all 50 states and the District of Columbia, 1,000 coaches, 10,000 family members, 10,000 volunteers, and an estimated 50,000 spectators will take part in this premier national sports competition, showcasing the power and joy of sports at the highest levels. Kaiser Permanente was the Official Health Partner for the Games and major sponsor of the Special Olympics of Washington (SOWA) team. 
This sponsorship was a massive task for the marketing and communications teams in Kaiser Permanente. Initial talks with leaders had the creative work going to agencies. I convinced the marketing leaders that the internal creative team was up to the job under my leadership and that of my Editorial ACD partner, Summer Taylor. We started with concerting sessions with our writing and design teams to land on a theme and visual direction. When we had a concept that we were proud of, Summer and I, with the help of our branded events team, presenting our plan for this massive campaign to our Washington and National Kaiser Permanente leadership. 


We developed two major buckets of work:
Pre-Games:
Style-guides and logo lockups
Medical staff engagement and volunteer recruitment with our internal comms teams at Kaiser Permanente and Washington Permanente Medical Group
SOWA Team events - Team Washington Announcements, On-Campus Healthy Athlete Event, Poster art contest
Advertising
During the Games:
Multiple brand activations
Daily news coverage of our member athletes, including interviews and photos on a custom website
First-Aid tents and coverage
Executive and Sales events
I attended a 2-day SO USA Games planning workshop where all the large corporate sponsors got together to understand how the event would work and the opportunities for advertising, sponsorships, and brand activations.
Team Washington Celebration
One of the first events to kick off the Special Olympics sponsorship was a Healthy Athletes event for Team Washington at Kaiser Permanente's Renton campus. We had over 100 athletes, the local news media, and a host of Kaiser Permanente staff cheering. Speakers included the chairman of the Special Olympics organization, Timothy Shriver. 
All the athletes were gifted track jackets that I designed. I created and coordinated a massive banner reveal during the event.  
Photoshoots and Advertising
Working with our communications and PR teams, we had identified Special Olympics athletes who were also Kaiser Permanente members. We wanted to feature them in heroic photoshoots that would be part of our "Rise and thrive" campaign. Working with my producer Sharon Swanson, photographer 
Ben Jenkins
, production crew, and SOWA coaches, we made these athletes the star of our advertising.
The athletes' images would be on Seattle's Link light-rail train, a train station take-over at the University of Washington's Husky Stadium, a vehicle wrap for Kaiser Permanente's Thrive van, plus posters, digital signage, social media, and more. ​​​​​​​
Staff and member engagement
Working with our member marketing team, we developed a poster contest for children. The kids would create messages of encouragement for SOWA athletes. We hosted an event where SOWA athletes helped to choose the winning artworks based on age groups. We turned the winning art into posters that volunteers used in the USA Games cheer line.
Commemorative enamel pins are a big part of every Special Olympics event. All of the state teams create their pins to trade. Sponsors will create a whole series of collectible pins for the duration of the games. I got to design a series of co-branded enamel pins.
Brand activations during the USA Games
The Thrive Lounge shipping container 
We knew the Games would be a fast-paced and often overwhelming experience for the athletes and families. We wanted to create an area where they could sit, relax, and charge their phones. We developed the Thrive lounge with experiential marketing experts, Boxman Studios. We included our crowd-favorite smoothie bike so folks could have a healthy snack.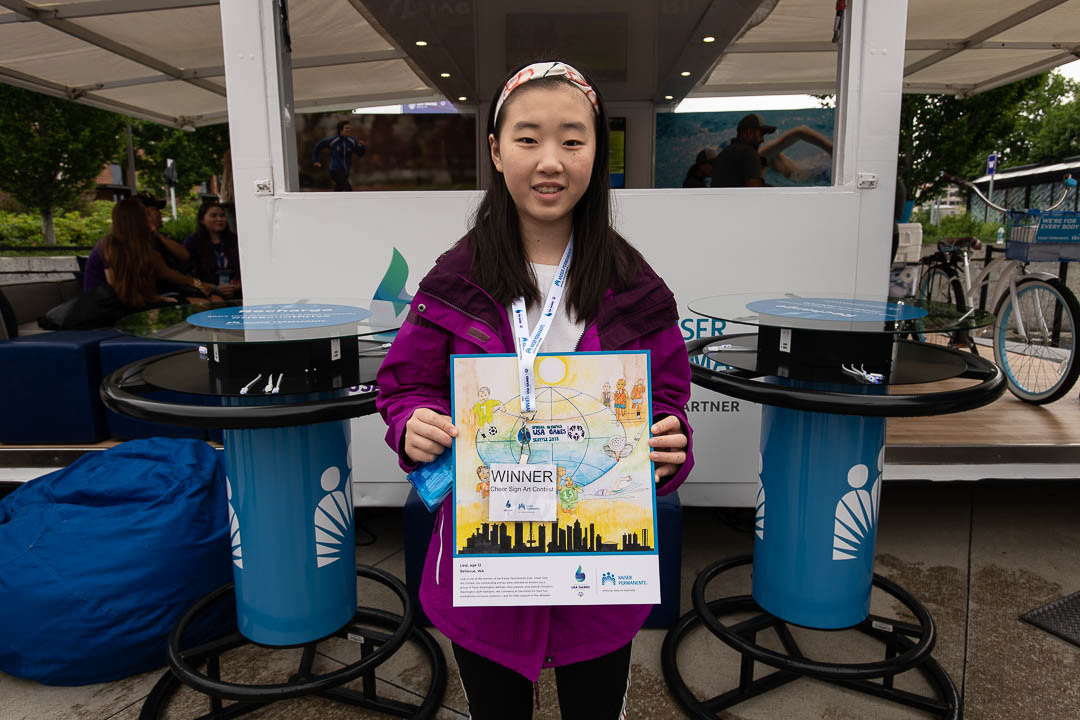 I provided art direction to a digital activation agency that we hired to develop a soccer kick game. The motion-based activity was a fun way for visitors to move and engage with our brand.
Reporting and social content
I worked with Kaiser Permanente's Southern California Studio team to develop a web platform to post daily stories about our member athletes before and during the Games. During the four days of the Games, we formed three teams of photographers and writers. I was a part of one of those teams, capturing some fantastic images of the athletes. My writing partner, Summer Taylor, would interview the athletes. In the evenings, we would hit the Media Room to post content to the website. 
As part of our Kaiser Permanente's Official Health Partner role is to provide sideline and first aid care. We recruited volunteers from our medical staff. I designed all the tents and materials to support this crucial team.